Automated Packaging Systems Technician
Unique in the State
Technical Diploma
63 Credits | 2 Years
Financial Aid-Eligible
New Richmond
Career Cluster: Manufacturing
The Automated Packaging Systems Technician program provides training for individuals who wish to obtain mechanical, electrical and automation skills as they relate to the industrial manufacturing environment. 
The manufacturing environment in the packaging industry is a fast-paced, technical production environment requiring skill to maintain the required output from high-speed packaging machines. The program focuses on the manufacturing industry; however, the skills you acquire will provide a foundation for entry into the dynamic field of manufacturing in positions such as maintenance technician, field service technician/engineer and machine assembly/installer. 
 
---

Tuition reimbursement may be available to assist with your training in mechatronics as part of the Housing Opportunity & Mobile Education Solutions (HOMES) Grant. To determine if you are eligible, please contact an Admission Advisor. Learn more about this opportunity here.
Program Overview
The Automated Packaging Systems Technician program will give you the skills you need to enter a career in the packaging industry. You learn to service and repair a variety of packaging equipment and automated systems. This program emphasizes the maintenance and troubleshooting of electrical, mechanical, fluid power, robotics, and PLC (Programmable Logic Controller) components on packaging machines. Classroom and hands-on instruction on packaging machines plus visits to the packaging industry are all parts of the program. You may participate in the Institute of Packaging Professionals meetings each month as a member of the student chapter. 
Program integrates advanced manufacturing (Industry 4.0) competencies to meet the regional need for skilled employees.
Program Outcomes
Automated Packaging Systems Technician graduates will be able to:
Demonstrate safe practices and techniques
Install power transmission components, fluid power components, and automation components
Maintain power transmission components, fluid power components, and automation components
Troubleshoot power transmission components, fluid power components, and automation components
Electrically connect automation and communication components
Troubleshoot automated control systems
Create electrical systems drawings and schematics for automated machines
This program is unique in the state, so you'll obtain a unique set of skills that no other school in the state can provide.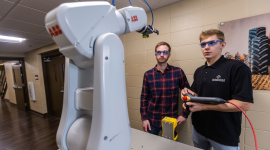 The instructors have years of application experience in the field that they bring to the classroom and lab to transfer the knowledge to you.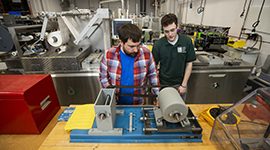 You will acquire mechanical, electrical, fluid power, and automation skills on packaging machines.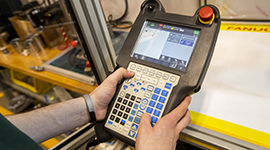 You will gain real experience while training on real machines and employing real components to complete maintenance, installation and automation tasks.
Academics
Through classroom and lab activities, you will develop knowledge and skills using real machine components. You will learn the language of industry as it relates to the mechanical, electrical, fluid power, and automation components. 
As an Automated Packaging Systems Technician student at Northwood Tech, you can earn credentials each step of the way. Graduates of the Automated Packaging Systems Technician program also earn a technical diploma in Mechatronics Basics. 
Develop Mechanical Skills
You will engage in tasks that allow you to remove, repair and, if needed, replace worn-out or defective components.
Develop Automation Skills
Several courses that build on developing automation skills are included in the program such as DC and AC electricity, packaging systems equipment control, electromechanical componentry, and programmable logic controllers (PLC). 
Curriculum
The program is comprised of courses that allow you to discover and learn basic mechanical, electrical, fluid power, and automation skills. The program is aligned with the packaging industry; however, the skills you will develop will allow you to pursue opportunities throughout industry in general. Wherever there is manufacturing and automation, your skills will be valued. 
This course presents an overview of robotics in practice and research with topics including vision, motion planning, mobile mechanisms, kinematics, inverse kinematics, and sensors. PREREQUISITES: 32414335 DC Electricity and 32414336 AC Electricity.
This course will provide a foundation for working with microprocessor controls. Students will learn the theory and application of electrical principles as they are applied to control systems found in industry. The learner will use trainers and machine components to provide recognition and understanding of modern microprocessor-based control systems. PREREQUISITE: 32454345 Packaging Systems Equipment Control.
This course develops the skills required for the implementation of vacuum, air, and oil used to transmit force for performing useful functions on machines. Students will apply symbols to components and connect components to understand the assembly, operation, and maintenance of fluid power systems. The transmission of force is used in a variety of applications and can be hazardous to individuals who do not understand the related laws of physics.
Automated Packaging Systems Technician is Part of a Career Pathway
As an Automated Packaging Systems Technician student at Northwood Tech, you can earn credentials each step of the way! 
You could take this first and get a credential.
14 Credits / 1 Year Part Time
Potential Careers
Entry Level Electro-Mechanical Assembler, Maintenance Technician, Service Technician
This is the program you're looking at.
63 Credits / 2 Years Full Time
Potential Careers
Field Service Technician, Maintenance Technician, Electromechanical Technician/Assembler
Continue your education to earn a bachelor's degree.
Northwood Tech has an easy admission process that can be completed in one visit. Please see the details under the "Requirements and Application" section to get started.
Tuition and Fees
Northwood Tech breaks down the cost of education, so you'll have a good idea of how much your education will cost. 
Financial Aid
Financial aid is available to help you pay for your education. It can come in the form of grants, loans, federal work-study, military and veterans benefits, division of vocational rehabilitation benefits, and scholarships. 
Students who accept the HOMES Grant Tuition Reimbursement may not be eligible to receive full financial aid. For more information contact your campus Financial Aid Advisor.
Estimated Total Program Costs 2023-24*
Automated Packaging Systems Technician
63 Credits | 2 Years
$10,801
$575 for tools, supplies and uniforms
---
*Tuition is an estimate and does not include any miscellaneous fees for various courses, tools, books, supplies or uniforms. Program book costs are in addition to tuition and fees and vary depending on course selection and where the books are purchased or rented. 
After the Northwood Tech Automated Packaging Systems Technician Program
Upon completion of the program, you will earn technical diplomas in Automated Packaging Systems Technician and Mechatronics Basics.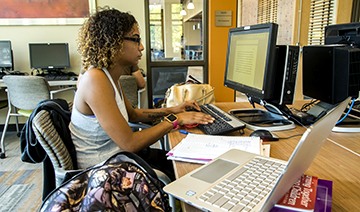 Transfer Center
Transfer your Northwood Tech credits to a four-year college to earn your bachelor's degree and beyond. 
Career Outlooks
Northwood Tech's graduates experience success. Learn more about the types of careers you can get after graduation.
Smart Automation Certification Alliance
Packaging Machinery Manufacturers Institute Partner
The PMMI Mechatronics program helps move manufacturing forward by providing employers, schools and potential workers the tools needed to advance the workforce and close the ever expanding skills gap.
Through a series of tests based on industry-developed skill standards, the PMMI Mechatronics Certification program:
Helps employers assess workers for core skills
Guides schools in developing curriculum to prepare students for the manufacturing workforce
Provides a career pathway for students looking for rewarding careers in advanced manufacturing
PMMI certification tests are based on industry-developed standards and are recognized by the U.S. Department of Labor and the Manufacturing Institute's Skills Certification System. PMMI works with a growing number of PMMI Mechatronics Education and Industry Partners to further advance this program.